Need Interior Consultation
Completed Interior Project In Indiranagar Bangalore.
interior design firms in indiranagar bangalore
Utopia interior designer in Indiranagar Bangalore Offers | Meticulous Planning | 3D Presentation |
Factory Finish | Honest Prices | High Quality | On Time Deliver
Interior design firms in Indiranagar Bangalore.
Completed Interior project for Mr.Santanu in Indiranagar Bangalore.
About Our Completed Interior project in indiranagar bangalore.
Utopia being one of the best interior design firms in indirangar bangalore takes great pleasure to first understand the requirement as well as visualize our clients home through their eyes and plan and create the 3D presentation of the project so that our clients can make all decisive changes in advance and get there perfect dream home. 3BHK flat interior works for Mr. Shantanu located in indirangar bangalore meticulously designed making Utopia a leading interior designers in indirangar bangalore.
The project was a great experience for us as we have demonstrated simplicity with a touch of elegance and grace in design.Utopia is one of best architects and interior designers in indiranagar bangalore had executed this project beautifully according to client requirement and taste.
WHY Choose Us

Conceptualized space planning.
Experienced team.
3d elevation plans.
World class designs.
Beautiful Factory Finish.
Creative Industry Experts.
Multiple Themes to choose from.
Absolute interior solution.
Guaranteed satisfaction.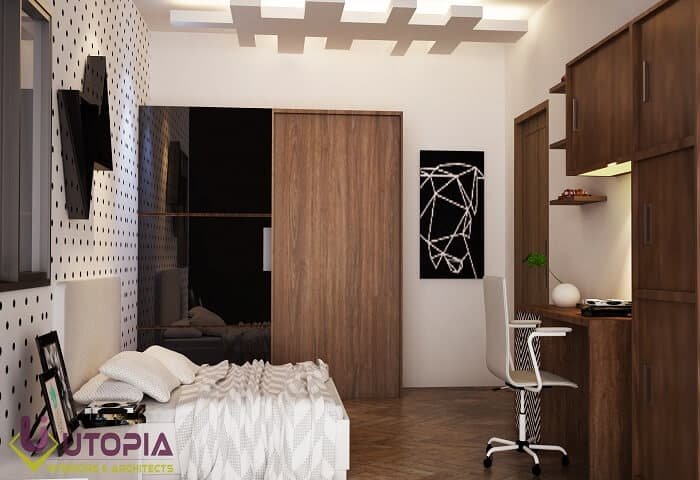 High Quality, Ethically Sourced Materials
On time Delivery and assembly under expert supervision
24-month Warranty and 12 months free maintenance
Project Gallery
Completed Interior project for Mr.Santanu in Indiranagar Bangalore.
Message Us Feel Free To Call Us Or Send Us Your Details So That Our Expert adviser Can Call You back | For Free Quotation