About Us
Our core values and professionalism have facilitated us to evolve as a high quality responsible and a trusted company. We adhere to ensure Customer Delight.
High Quality, Ethically Sourced Materials
Your Satisfaction is Guaranteed
Our Story
We've Been Designing And Executing Spaces Since 2010
Utopia Interiors & Architects, a leading architecture and interior design firm in Bangalore started in 2010. We are one of the leading interior designers in Bangalore offering interior services for residential and commercial spaces. We adhere to ensure Customer Delight. Our Team of dedicated Interior Architects in Bangalore is committed to ensuring high quality, trust, and on-time delivery of projects. If you are looking for affordable interior designers in Bangalore, then we come with best interior solutions with unique and theme based designs within your budget. With years of experience, and in-depth knowledge in the field of interiors, we promise to make your dwell more planned, functional and great looking.
Our Mission

Our Mission is to provide best designs  and advance technology in interiors , based on 21st century that enables leadership in the profession of Architecture & Designing. Our Mission is to develop a community of learning with a comprehensive and vibrant   approach to design and informed by multiple precepts: that the design of the interior  has an integral and considered relationship to the building, landscape, and community.
Our Vision
We aspire to be the best Architects & Designers of choice and recognition in India & Abroad, to be an internationally recognized program, preparing design leaders grounded in the process of inquiry; design; and, the making of space and form; who rigorously pursue excellence intrinsically, and contribute to the betterment of the human condition.
What we do
Complete Interior Solution Under One Roof
Residential Interiors .
we at Utopia Interiors, a leading interior firm in Bangalore provide you the complete interior services for your dream home. With years of experience, and in-depth knowledge in space planning, right color selection for residential interior we can able to make your dwell more planned and functional. Having experience of handling numbers of residential projects, we assure you the unique designs, nicely executed, well finished and on time delivery of your project.
Creative Industry Experts
Conceptualized space planning.
Experienced team.
3d elevation plans
World class designs.
Beautiful Factory Finish
25 + Themes to choose from.
Absolute interior solution.
Guaranteed satisfaction.
Commercial Interiors .
Utopia Interiors is a leading service provider in commercial interior services. With almost 10 years of experience, we complete devious and artful commercial interior that reflect a harmonious balance of functionality and aesthetics of the structure. Our company encompasses many skilled designers, with vast experience in designing.  By establishing a realm of trust and transparency with our clients, we assure that projects are completed within their budget and as per their expectations.
Outlets, Hotels.
Offices, Showroom, Malls.
Complete interior solutions.
World class design.
Absolute interior solution.
Beautiful Factory Finish
Guaranteed satisfaction.
Expert Analysts.
Our Expert Analyst will look & Guide at all of the user requirement and suggest how to design the house beautifully..
Experienced Architects.
Our Experienced Architects  offer meticulous layout  planning & skillfully create hassle free functional spaces.
Experienced Interior Designers.
We have a decade of experience in interiors. Discover the best skilled and modern interior designers with  aesthetic.
Skilled Manpower.
We have Skilled Manpower, Skilled Workers, Customer Support , representatives  and  technicians.
our Design Process
Our step by step process to accomplish beautiful homes..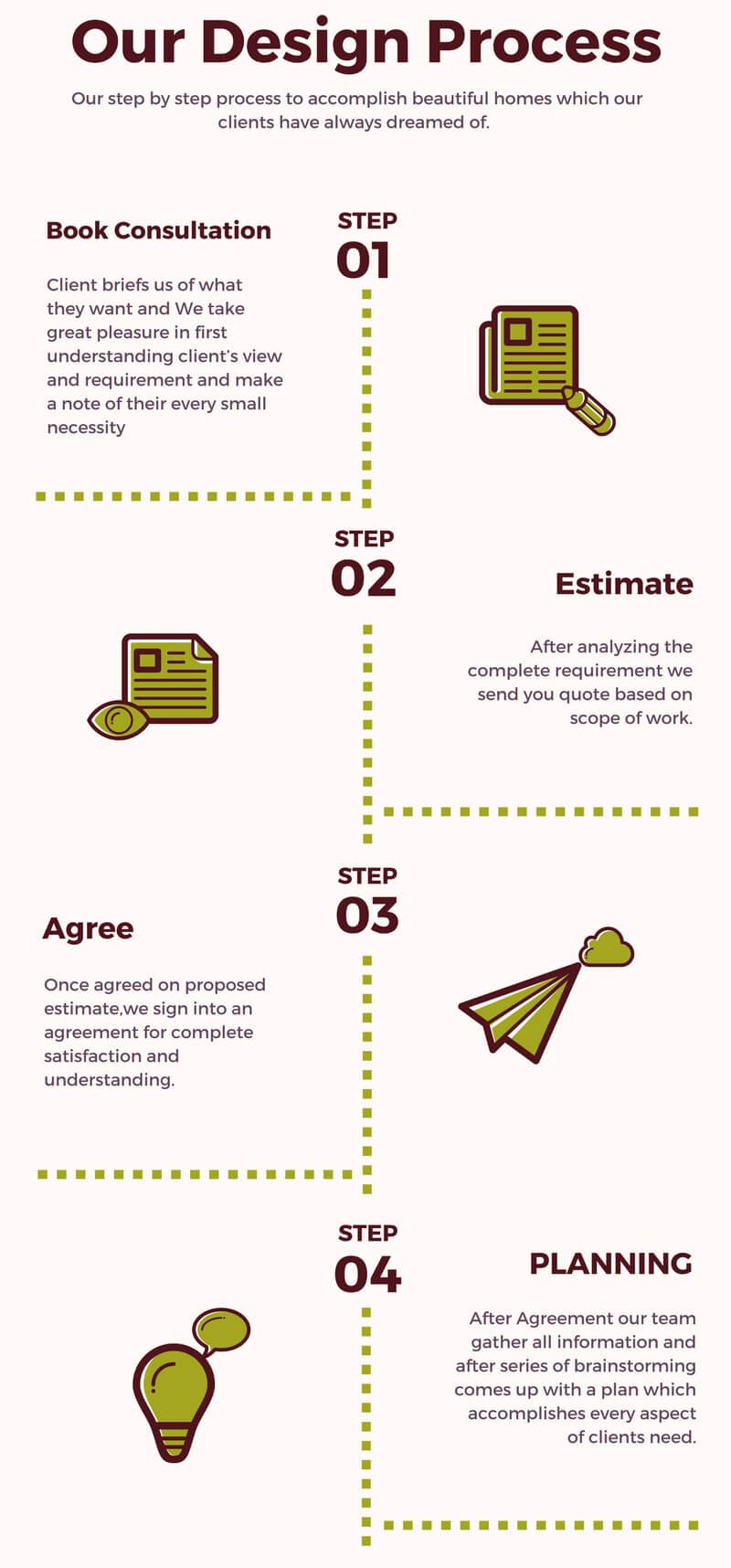 Message Us
Get In touch below. Ask Any Question or Start a Free Quote
Office Location
Near to 100 feet Road Indiranagar,Bangalore.
Open Hours
T-S: 10 am – 7 pm, SU: 10 am – 6 pm